Food, after water, is the key to life. For most of us it's easy to get food by visiting our local grocery store, shopping at the Farmer's Market, perhaps doing an occasional COSTCO run or growing a garden of fresh herbs and tomatoes. We do not know what it is like to be truly hungry.
Despite being largely unaffected by hunger, too many people are. Often those with enough food never encounter those with not enough, unless we go outside our bubble. Prior to the economy slamming shut in March, one in 10 adults and one in seven children in Washington State were counted as hungry according to NW Harvest, the largest in-state hunger organization. This is simply too many, 10% of the adults and 14% of the children living in the state of Washington were hungry pre-COVID-19.
Two years ago, I came face to face with poverty–children with not enough food. I was doorbelling for Democratic candidates in Republic, Washington, a Libertarian and Republican bastion. Republic is one of those cute western towns, with saloon style storefronts and its destination business the Stonerose fossil digging enterprise. When my kids were young, we vacationed in Republic to dig for 50 million year old Eocene era lake bed fossils and ate our meals at the local tavern.
Doorbelling in the 2018 election cycle took me off the main drag and I saw deeply runneled dirt roads in the residential neighborhoods. I was struck by the poverty. One home had a sleeping bag stuffed into the window to keep any cool air in or cold air out depending on the season. (It was close to 100 degrees Fahrenheit the day we were there.) Several children in the yard were cordial, while at the same time appearing rather listless and likely hungry. My heart ached as I realized what I was seeing.
With the onslaught of the novel coronavirus, I can only imagine now how many families must be suffering with job losses and lack of food.
What happened?
The first confirmed U.S. coronavirus case was documented in Snohomish County, an hour north of Seattle on January 20, 2020. Curiosity was heightened by this announcement but life did not change. In February, the stock market was still humming. In nature's world, daylight hours were increasing rapidly as the sun's path ascended towards summer and farmers began their annual spring planning and planting. Washington State's unemployment rate hovered at 7.7%. Life had a semblance of normalcy.
Then BOOM in late February, news stories and social media posts began warning of an impending pandemic. The U.S. had not experienced a significant pandemic since the 1918 Spanish Flu that no living being remembers today except through stories. By mid-March two short months since the first known U.S. case, the onslaught of the novel coronavirus and its ensuing COVID-19 disease was upon us. Washington Governor Inslee issued a stay at home order, schools closed, businesses required employees to work from home, mom and pop stores shuttered, and only essential services could continue. By April, Washington's unemployment rate doubled to almost 15%.
One immediate effect of the shutdown was more hungry families. According to the Brookings Institute, a Washington, DC based think tank, by April 2020, food insecurity, a term for not having enough food to meet nutritional needs, had doubled across the country to more than 20% for adults and about 34% for children. This is unconscionable, so many hungry people in the richest country in the world.
Granted Washington State's political leadership rightfully erred on the side of caution with stay at home orders, face masks and social distancing requirements to tamp down the scourge of the coronavirus. This strategy has kept the statewide positive testing rates below 5%. Even so, the virus is still persistent and percolating through the State's communities. Economic uncertainty with fewer jobs available is expected for at least the rest of 2020. Any jobs affiliated with the travel, hotel and airline industries, events (think weddings, conferences and concerts), and schools will continue to be impacted. This job insecurity translates into ongoing food insecurity and sadly hunger.
What is being done?
The power of social media. It has its advantages and its disadvantages. Thankfully, the advantages of the platforms have shone with stories to help alleviate hunger.
In late April, my Ephrata friend Sylvia Hammond posted on Facebook, "Do you know anybody who wants large quantities of 50 pound bags of onions at $5 a bag? Local Warden farmers need to empty their packinghouses to create room for their 2020 crops." I jumped at the opportunity and agreed to meet Sylvia at Snoqualmie Pass to retrieve and transport 1,400 pounds of the biggest, juiciest, heaviest onions. Each onion was one pound! Half of the onions were donated to the University District Foodbank. My garage became a distribution center to friends and neighbors for the remaining 700 pounds of onions.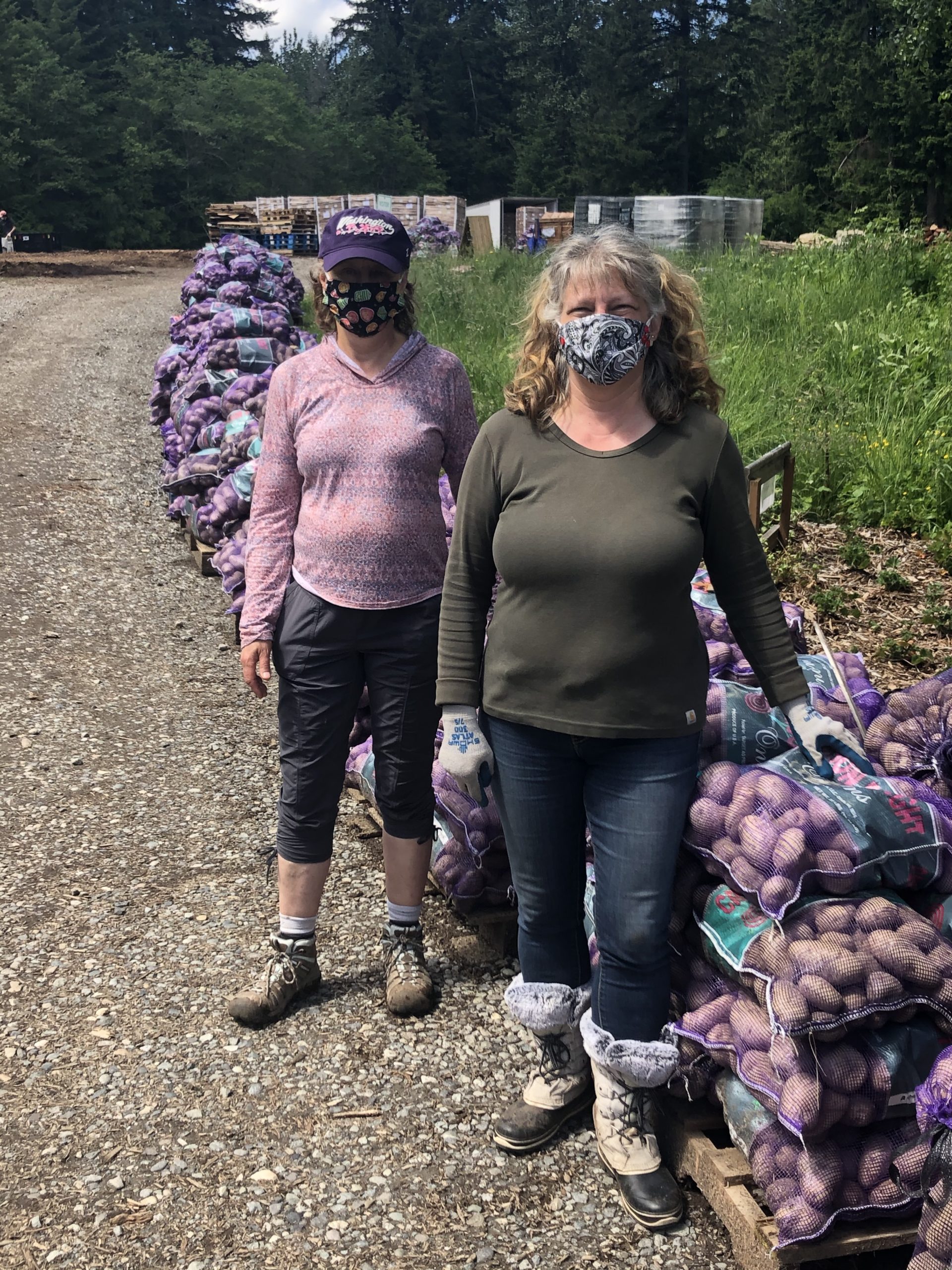 At the same time my friend Zsofia Pasztor, Farmer Frog founder, read a Facebook post from George Ahearn, an Othello, Washington native and Western Washington transplant announcing 50 pound bags of onions, transportation not provided. George knew the Eastern Washington farmers needing to offload 20 to 40 tons of storage potatoes and onions that had been destined to restaurateurs, conventions, and ball games. No one was socially gathering to eat the oodles of French fries and onion rings.
Concurrently Nancy Balin, Family Jewels Foundation read George's post and offered a heavy-duty pickup truck and several horse trailers for transport. Zsofia spoke up and offered Farmer Frog Farm as a sorting and distribution site. On May 1st, the first food rescue convoy left for Eastern Washington returning with 110,780 pounds of onions and potatoes. By the second transport convoy a week later, the EastWest Food Rescue non-profit had been created and was ready and willing to accept donations to cover the cost of the rescued food and sign up volunteers.
Now three months later, EastWest Food Rescue has filled a humongous need with no let-up in food available and needed to feed many hungry families. Since that first fateful trip on May 1st, EastWest Food Rescue has moved 2.7 million pounds of food, supplied food to more than 200 different groups and organizations, and provided much needed food for more than 800,000 people.
What is really important about EastWest Food Rescue is the distinction that they are paying for the food they get from farmers. You may ask, "Why pay for the food? It was going to be discarded anyway?" Just as in any business, farmers have costs. Farmers run a business. Farmers have a family to support, equipment to buy, and taxes to pay. Most importantly, farmers need to make enough money to have the incentive, desire, and ability to plant next year's crops. Food is a never ending need. And growing food is a year after year endeavor.
EastWest Food Rescue pays farmers at least at cost, for the food it rescues. To date, donors have given $45,000 to support their efforts, to pay for 2.7 million pounds of food. What does 2.7 million pounds of food look like? Food weights vary. Potatoes, onions, and apples are all heavy and dense while lettuce is much lighter. Raw food is basically a tasty, nutritious, fibrous water, nature-made package that delights, nourishes, and satisfies. A freshly harvested potato is 80% water and an onion is 89% water! Water is heavy!
So, let's do the math. A large semi-truck can carry 48,000 pounds of apples, onions or potatoes, according to Zsofia. So 2,700,000 pounds is 56 semi-truck loads of food transported, sorted and delivered to needy families!
What happens to the food?
Semi-truckloads of food have arrived several times weekly at Farmer Frog's Paradise Valley farm since May 1st. Volunteers arrive on site, to sort, bag, and load food quantities suitable for a household. More than 1,000 volunteers have given more than five thousand hours of their time in two hour shifts over three months. Thirty people have freely given more than 8,000 hours of time to manage and schedule the volunteers, make sure the packing site is safe, coordinate deliveries in and deliveries out, be in contact with farmers and USDA suppliers, fundraise, communicate via social marketing, and prepare a web page to create a food hub operation with grace and efficiency during this crisis.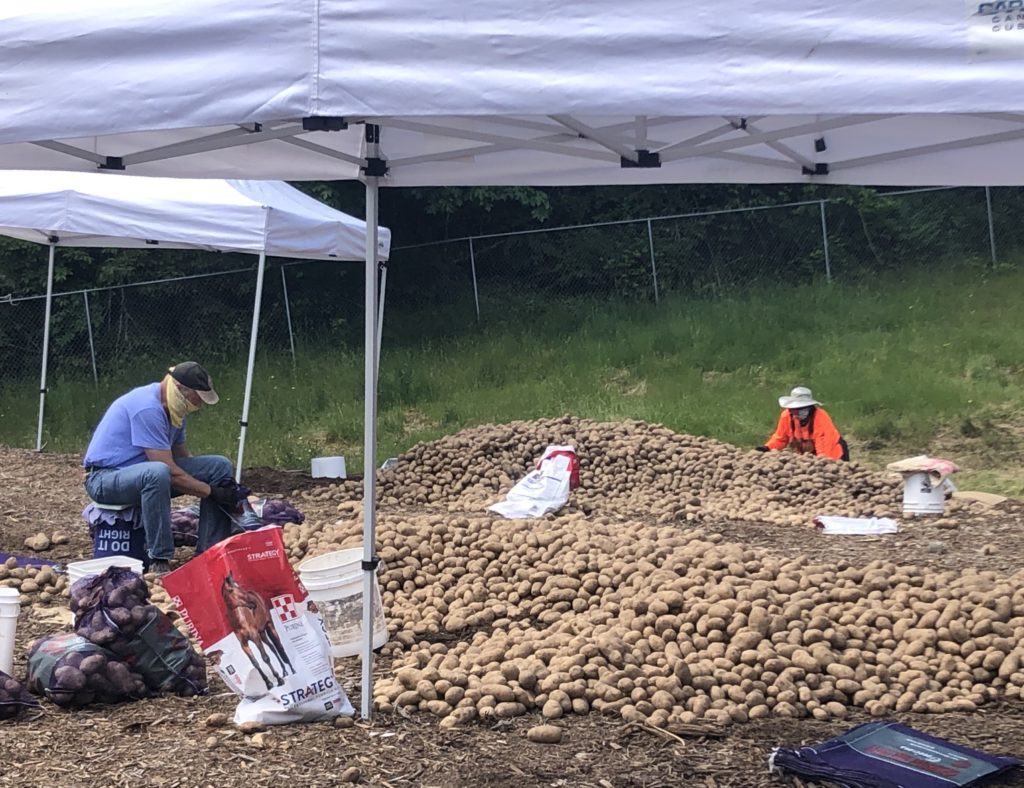 With Zsofia, George and Nancy at the helm, the EastWest Food Rescue operation has given much needed food to more than 200 different organizations as far away Portland, Oregon and Toppenish, Washington and as close as Sultan and Gold Bar. More than 180,000 households totaling more than 800,000 people have benefited in three short months from the generosity, passion and foresight of the Food Rescue team.
One delivery from Farmer Frog Farms fed one hundred and twenty households on Casino Road, another fed four hundred households serviced by the Covington Food Bank, one thousand households benefited from the Forks Food Bank delivery and the Tzu Chi Seattle delivery served 700 households. These are just a few of our fellow Washingtonians that found themselves needing and accepting food assistance during these unprecedented times.
What can be done?
The need is overwhelming. So what can be done? The pragmatic Zsofia quipped, "Have everyone earn a living wage. Teach everyone to grow some of their own food. " Zsofia and I chuckled as neither of us see wages rising nor gardening practices changing in the next six months. However, as long term goals, they are totally possible. Farmer Frog's in "normal time" is "Sprouting Simple Change, when children and families grow food for themselves." Farmer Frog has programs to teach hands-on learning on how to grow food.
More importantly today with so much surplus food being sold at cost, is it possible that farmers are being disincentivized to grow as much food as is needed this season? Zsofia believes that that between 40% to 60% fewer crops are being planted now! Food crops formerly destined to restaurants, ballgames, conventions, and entertainment are not being planted. Could this potentially cause future food shortages? In Spring 2020, surplus food was available for those that could not afford to buy food in part because the economy was shutdown. With an ongoing pandemic and conventions and ballgames still on hold farmers may not plant as much food. Could this be another disaster waiting to happen?
What to do now?
It is imperative that EastWest Food Rescue continues to get the financial and volunteer support it needs. Weekly two to three semi loads with perishable food arrives that needs to be sorted, organized, and bagged to be delivered to a multitude of needy households.
Signing up to pack produce and assist with the operations is easy and found on the EastWest Food Rescue website. Fifteen volunteers are needed almost every day for two 3 hour time slots. COVID-19 masks and closed toe shoes are required. Sun protection, food, and water are highly recommended. Drivers with hauling capability are also needed.
And of course, donations are always needed to pay the farmers. We need farmers to keep growing food and they need to be paid for their work.