As parents conversed over coffee and donuts early Saturday morning excitedly anticipating the outcome of sorority rush week, I chatted with a Dad about his daughter leaving sunny southern California to come north to the University of Washington. Of course, we started talking about how much it rains in Seattle. It's just that west coast thing. Southern Californians can't imagine how Seattleites can bear the endless rain. Of course, I had to perpetuate the rain myth.
The Dad exclaimed, "I like seeing green (trees, bushes, and grass) and know I will enjoy visiting Seattle, since I live in the land of endless drought. I must say that Governor Brown's executive order last year that cut our water use by 25%, while agriculture (the State's largest water user) had no restrictions was unbelievable." Jokingly, he said, "Maybe we'll be importing water from Seattle soon."
"Perhaps, by re-localizing the food system, California water can stay in California and not be exported (in its agricultural products) around the country and the world," I suggested. "Maybe we should get back to eating seasonally and locally, eating what grows where we live when it is available?"
Strawberries: A Summer Fruit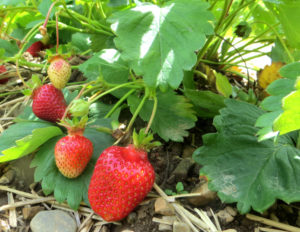 When the sun and heat amped up in Connecticut in mid-June, giant signs with only one strawberry on it announced the start of the U-Pick summer fruit season at the family farms around town. Knowing that just picked strawberries were the best, my Dad would coerce my siblings and I to venture out early Saturday morning to pick the brightest, reddest, and biggest berries possible. I quickly learned the art of picking–one for the mouth, one for the basket. I knew the proprietor would not be weighing my on-farm consumption, so I could indulge in my favorite fruit–what I learned later was the June-bearing strawberry, a variety that bears fruit for a short three week window every June.
Sometime 20 or 30 years ago, I don't know exactly when, strawberries started showing up in grocery stores in February way before I expected them. Of course, my mouth salivated for the luscious, sweet, flavor of my childhood. Alas, the berries were never as tasty or juicy as I remembered. February berries are an ever-bearing strawberry and are never local in my northern locale, as it is still cold, dark, and rainy. The ever-bearing strawberry produces multiple crops over a growing season no matter where they are grown. In the winter, they are shipped in a clear clamshell box from a warmer climate to allure the northern shopper with the anticipation of summer flavor. Even though the mid-winter berries are bright red and large, the flavor always seems somewhat dry and slightly woody despite being 92% water, which is the highest water content of any fruit. Ever-bearing strawberries can be delicious and sweet, as the freshly-picked flat I bought yesterday at the Lake City Farmers Market from Hayton Farm Berries grown one-hour north of Seattle in the Skagit Valley.
The majority of Californian strawberries, supplemented with berries from Florida and Mexico, are travel-ready and ever-bearing to be shipped everywhere to the east coast, Seattle, Chicago, China, you name it. The berries have been bred to withstand long-distance travel, arriving at their final retail location looking pretty, but not necessarily tasting good.
What's astonishing is that only five counties, four in California and one in Florida account for over 75% of the nation's strawberry acreage, all destined for clear clamshell boxes found in grocery stores year-round. From March to December, strawberries grow just an hour south of Silicon Valley–the high tech center of California–in Santa Cruz county and the Salinas Valley. Winter strawberries grow an hour and a half north of downtown Los Angeles in Ventura and Santa Barbara counties and near Plant City east of Tampa, Florida. Looking at nationwide strawberry production, it's startling, but perhaps not unexpected, that California grows 61 percent of US commercial strawberry production with Florida being a distant second with only 17 percent of the crop. Sadly, our taste buds are accustomed to the travel-ready clamshell box strawberries, so much so that even my own daughter doesn't like the local June-bearing berry.
California Drought and Strawberries
Our federal government monitors, analyzes, and issues weekly nationwide drought maps. Since water is life, the drought forecast is critical to understanding the irrigation capacity and hence, the potential shock and disruption to our nation's food supply from the effects of drought. The September 20, 2016 map demonstrates that the extreme (red) and exceptional (burgundy red) drought conditions, the most severe drought categories on the map, are centered directly over California strawberry acreage. Granted this map is depicting a single point in time during the driest time of year, but even so, California's precious water generated from snowmelt and groundwater sources is irrigating the nation and world's strawberries!
The future effects of continuous southern California sun on strawberry yields is not certain, but interestingly from 2013 to 2015 about 10% of strawberry acreage was eliminated from production in part due to the drought. There just wasn't enough irrigation water to feed the thirsty crop. The California drought is not expected to end anytime soon, as there is still a significant water shortfall to replenish to serve people, fish and streams, and agriculture. Whether the lack of irrigation water will impact strawberry production more is totally unknown. Looking at U.S. Drought Monitor, anybody can monitor the weekly fluctuations in precipitation which impact the drought conditions on agriculture and water supplies.
Which brings me back to the Orange County Dad. He agreed, "Eating locally grown foods tastes better! Maybe if the rest of the country grew their own food, it could help the California drought? California agriculture would have to get smaller though and that would be a hard sell. There could be more water for the cities, too."
Something to ponder. Would re-localizing our food system help the California drought?
Kathryn Gardow, P.E., is a local food advocate, land use expert and owner of Gardow Consulting, LLC, an organization dedicated to providing multidisciplinary solutions to building sustainable communities. She is also the Chief Operating Officer of MetroAG Strategies founded to integrate growing food into places where people live. Kathryn has expertise in project management, planning, fundraising, and civil engineering, with an emphasis on creating communities that include food production. Kathryn is a Washington Sustainable Food and Farming Network board member and on the Urban Land Institute–Northwest District Council's Center for Sustainable Leadership planning team. Kathryn's blog muses on ways to create a more sustainable world with good food!